Main content starts here, tab to start navigating
Old Burdick's Updates
Old Burdick's Downtown & Wings West Open for Dine-in, Takeout, & Delivery
We want to assure all of you, our valued customers, that the health and safety of you and our team members is our top priority.
Old Burdick's Downtown Hours
Sunday-Thursday
11am-11pm
Friday & Saturday
11am-11pm
Greenhouses, Patio, and takeout open until 12am
Last seating is at 1 hour prior to closing & last call for food and beverage is 30 minutes prior to closing.
Old Burdick's Wings West Hours
Our Wings West location is currently open Tuesday - Sunday from 4pm to 9pm!
At this time, Wings West is only offering a limited menu with pizza, breadsticks, and salad. We hope to expand our offerings once we are able to staff accordingly. Thank you for your business and patience as we navigate this time!
Each location's dine-in capacity will be at 50%, in accordance with the latest order from MDHHS.
Health & Safety Measures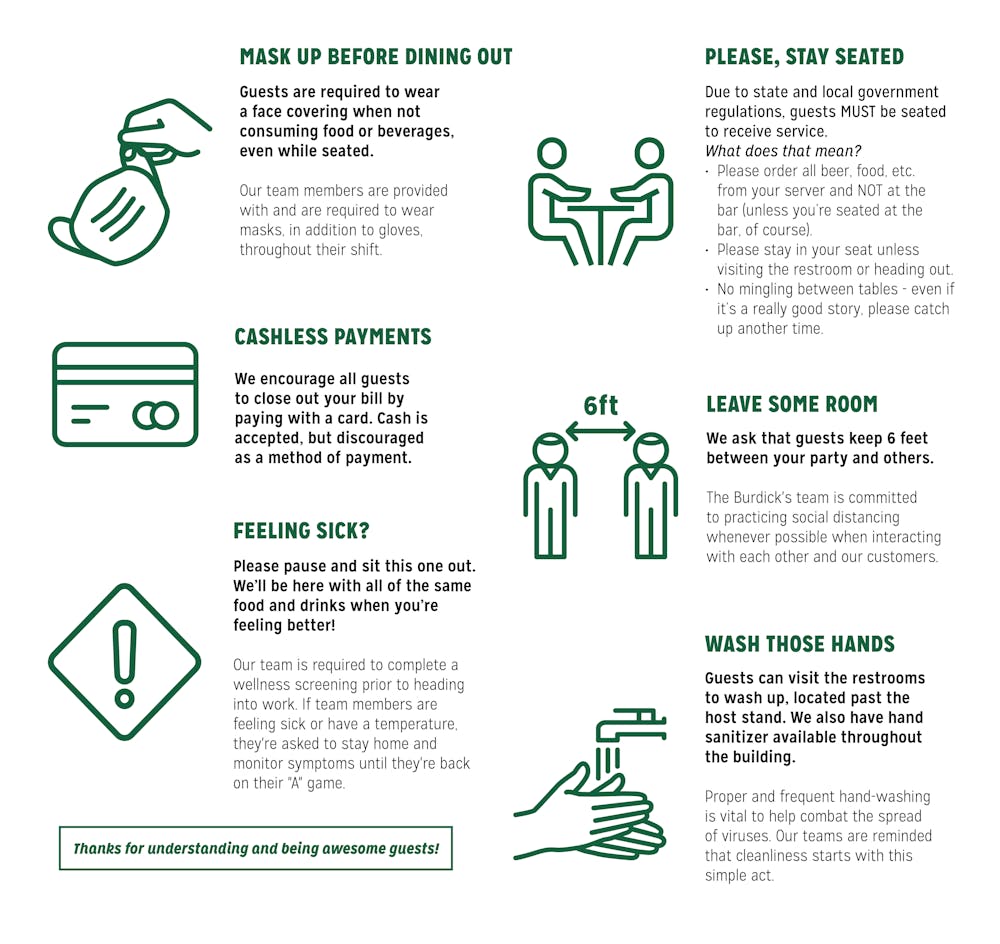 Clean Restaurant = Happy Everyone!
Our cleaning and sanitizing procedures have ramped up. We have an hourly sanitizing rotation of all high-touch surface areas along with intensive cleaning measures being taken in our kitchen.
Mask Up Before Dining Out
Guests are required to wear a face covering when not consuming food or beverages.
Our team members are provided with and are required to wear masks throughout their shift.
Contact Info
Our team will ask for the name and phone numbers of our guests for contact tracing if dining in with us. Please be prepared to share this information, we truly appreciate your understanding.
Please, Stay Seated
Due to state and local government regulations, guests MUST be seated to receive service.
What does that mean?
Please order all beer, food, etc. from your server and NOT at the bar (unless you're seated at the bar, of course).
Please stay in your seat unless visiting the restroom or heading out.
No mingling between tables - even if it's a really good story, please catch up another time.
Seating Limit
Seating is limited to no more than six (6) people at a table.
Feeling Sick?
Please pause and sit this one out. We'll be here with all of the same food and drinks when you're feeling better!
Our team members are required to do the same and complete a self-assesment prior to coming into work each shift.
Leave Some Room (6ft - to be exact)
We ask that guests keep 6 feet between your party and others.
The Burdick's team is committed to practicing social distancing whenever possible when interacting with each other and our customers.
Wash Those Hands
Guests can visit the restrooms to wash up. We also have hand sanitizer available throughout the restaurant.
Proper and frequent hand-washing is vital to help combat the spread of viruses. Our teams are reminded that cleanliness starts with this simple act.
Menu Access
In an effort to limit the amount of items placed on your table, we are asking guests to view our menu online via your mobile device.
If you are unable to access the menu, your server will be happy to bring a printed and disposable menu to your table!
Cashless Payments
We encourage all guests to close out your bill by paying with a card. Cash is accepted, but discouraged as a method of payment.
Please be Kind & Respectful
We are so excited to be back serving our Kalamazoo community and visitors. The additional measures we're taking to ensure the safety of our guests may cause a slight delay in service, and we hope and ask that you be patient as we aim to provide the best guest experience.
Takeout & Delivery Still Available
Enjoy the goodness of Old burdick's wherever you are, with delivery and takeout! Curbside Takeout will remain available on W. Michigan Ave for our downtown location and at Wings West it will be outside of the restaurant by the patio. Visit oldburdicks.com to view the menu and takeout/delivery options.
Reservations Welcome in Advance
Plan ahead to ensure a seat! Reservations will be available by calling the restaurant at 269.343.0032 (Downtown location) or 269.488.4500 (Wings West location).
Private Events - Celebrate within the guidelines
We're excited to help you celebrate moments, big & small, within guidelines set by local & state government. Contact us today to learn more about planning a private event at Old Burdick's.
We'll see you soon, Kalamazoo!