Main content starts here, tab to start navigating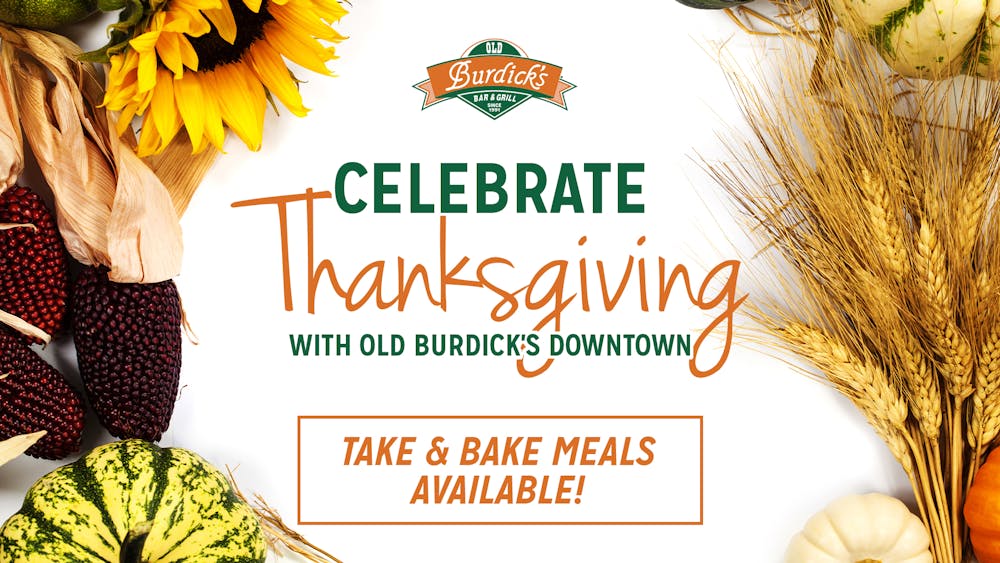 Let us do (the majority of) the cooking this Thanksgiving!
---
Burdick's Downtown will be open from 11am - 7pm on Thursday, November 26th for takeout and delivery. Take and Bake meals and fresh baked pies must be pre-ordered.
---
Take & Bake - ORDERS HAVE CLOSED
Our Take & Bake Meal Kits come with everything you need to enjoy a traditional turkey dinner at home, including easy to reheat dishes and instructions.
Mulled Wine Kits - Available Through Thanksgiving Day
Include a Mulled Wine Kit with your holiday meal - Available for pre-order or purchased through Thanksgiving Day - While Supplies Last!
Mulled Wine - Full Bottle Entwine Merlot, Elijah Craig Bourbon, Honey, Oranges, Cloves, Cinnamon sticks, Star anise - 28
How to Pickup Orders:
Take & Bake Meal Kits:
Orders can be picked up from 11AM - 9PM on Wednesday, 11.25 at the Radisson Circle Drive (Valet Area).
Fresh Baked Pies:
Pie orders can be picked up on Wednesday, 11.25 from 11am - 5pm at the Old Burdick's Downtown Host Stand. Take & Bake Dinner orders with the addition of pies will be brought out with your full order.
Please call 269.343.0032 when you arrive.
---
Thanksgiving Day Takeout Features
Our Thanksgiving Dinner Plate ($15) features an individual serving of turkey, stuffing, mashed potatoes, gravy, green beans, cranberry sauce, and one slice pumpkin pie.
How To Order:
Orders can be placed through Thanksgiving Day - while supplies last. Upon ordering, a pick-up time will be established. All Thanksgiving plated dinners are subject to an 18% gratuity.
Place your order today by calling 269.343.0032 emailing Kendra at Kdziewicki@ghgkz.com.